« Eidesvik resepsjon | Home | Jul i Rosendal »
By Janne | November 22, 2009
DOF´s nye multi-purpose skip vart døypt i går ved Aukra STX EuropeAS. Her er nokre av bileta ombord.
Desse første er frå hoved-opphaldsrommet. Båten skal jobbe langs kysten utanfor Brasil, og det har inspirert meg både tematisk og fargemessig til å tenke grønt! Inspirert av Amasonas og alt livet der, har eg jobba med nye teknikkar. Kombinasjon av broderi og papir, og å male på sparkel, for å nemna noko.
Trees are the earth's endless effort to speak to the listening heaven.
 RABINDRANATH TAGORE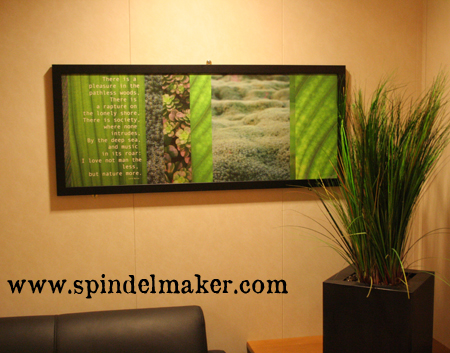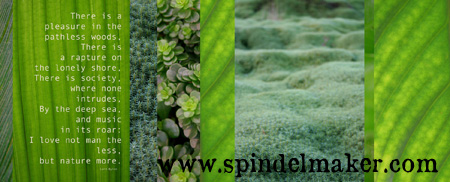 There is a pleasure in the pathless woods,
There is a rapture on the lonely shore,
There is society, where none intrudes,
By the deep sea, and music in its roar:
I love not man the less, but Nature more.
~George Gordon, Lord Byron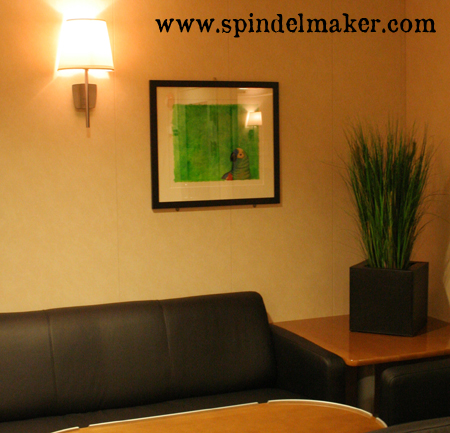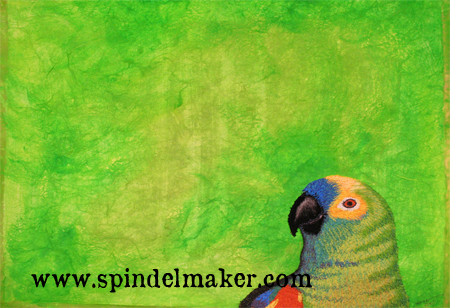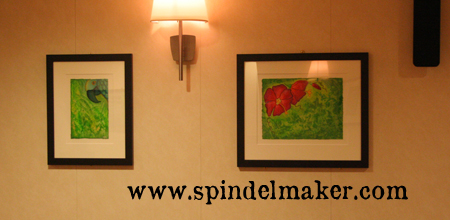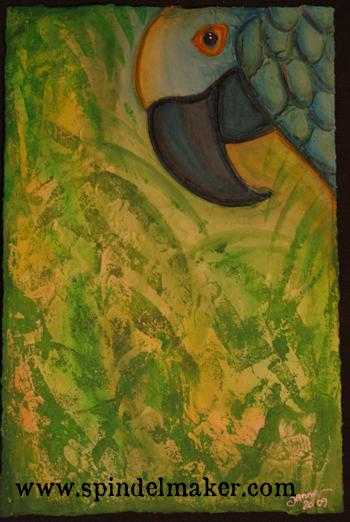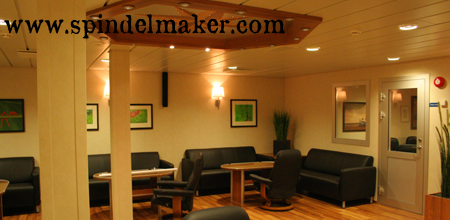 Deler av opphaldsrommet, med sikt inn til røykerommet gjennom vindauga.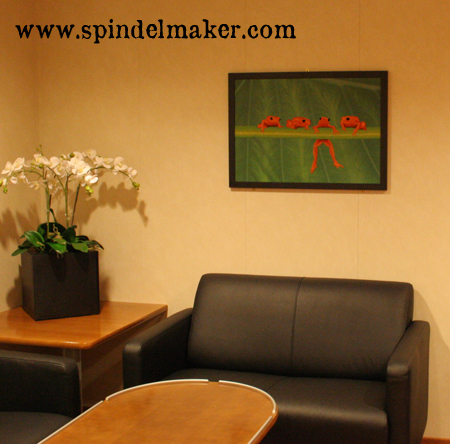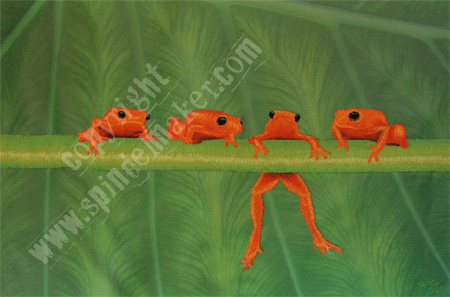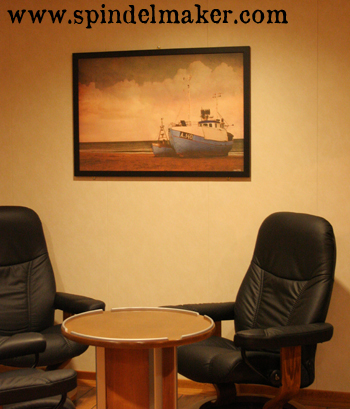 Dese gamle fiskebåtane fant eg ved vestkysten av Danmark.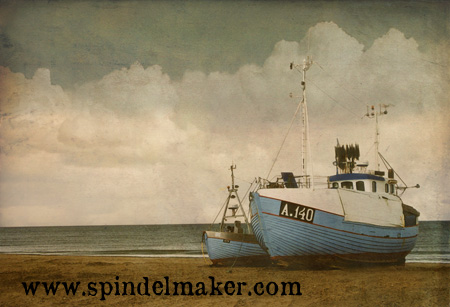 Og her er messa: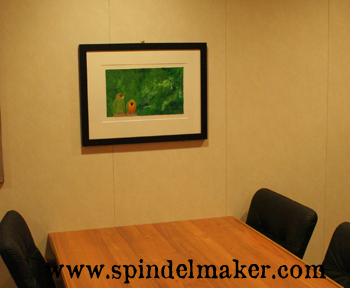 Alle fuglane  på bileta er maskin-broderte . Bakgrunnen er akryl-malt akvarell-papir.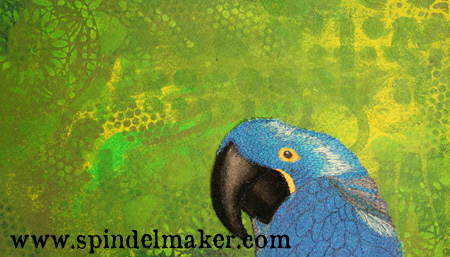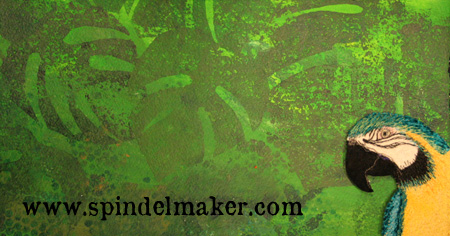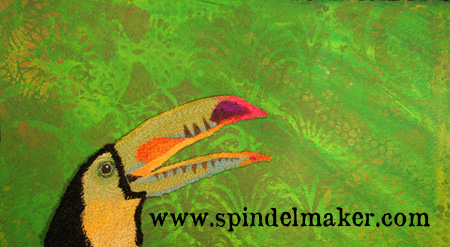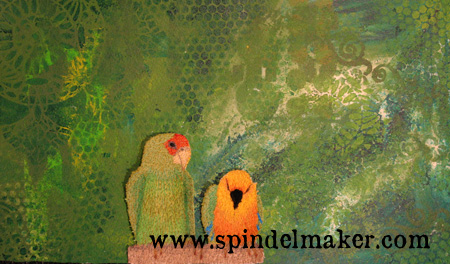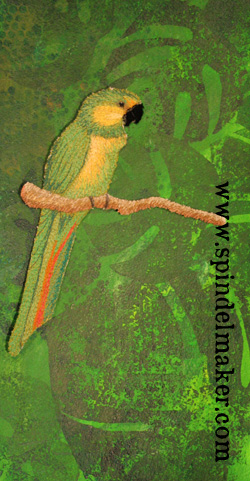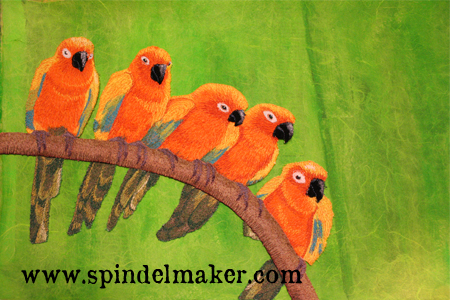 Her er bilete i konferanse rommet: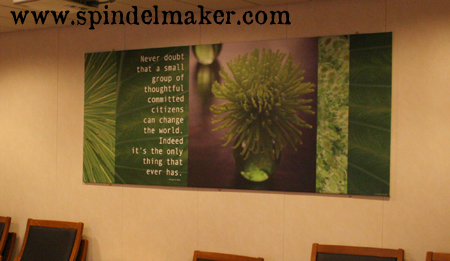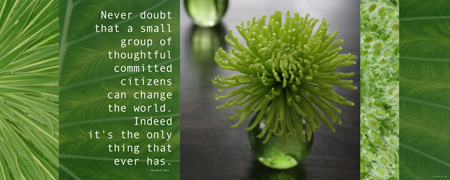 Never doubt that a small group of thoughtful committed citizens can change the world. Indeed it´s the only thing that ever has. 
Margareth Mead
Og her bileta som heng i trappesatsane: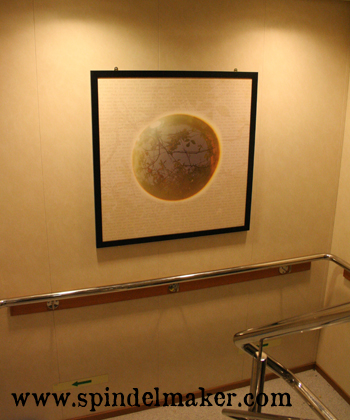 Dette bilete betyr mykje for meg. Karoline, Axel si dotter, tok dette bilete då ho var på ferie i Venezia som 14-åring. Dei åt på ein fortausrestaurant, og ho såg refleksjonen av trea rundt di i eddik-dråpen i olja som følgde med brødet. Ho fotograferte det, og eg har jobba vidare med bilete i Photoshop, justerte fargane og føydde til teksten. Som er eit utdrag av høvding Seattle´s kjende tale.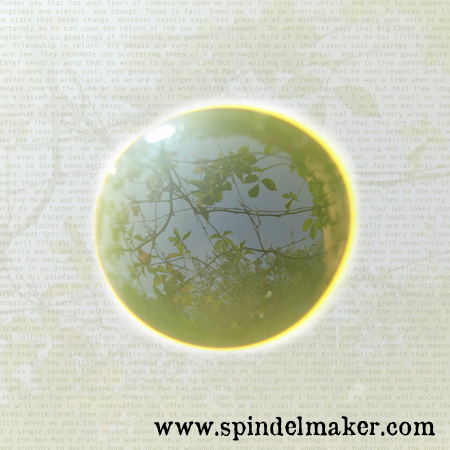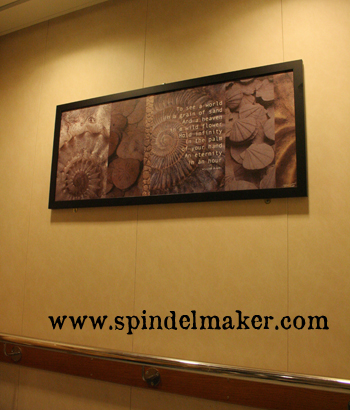 To see a world in a grain of sand, 
And a heaven in a wild flower,
Hold infinity in the palm of your hand, 
An eternity in an hour.
WILLIAM BLAKE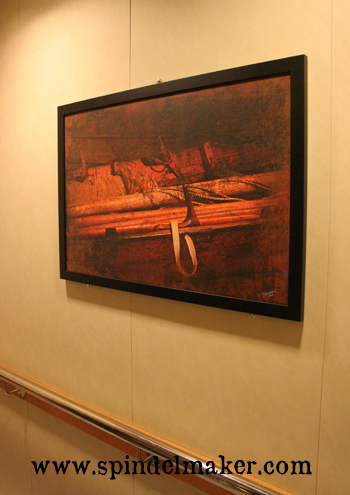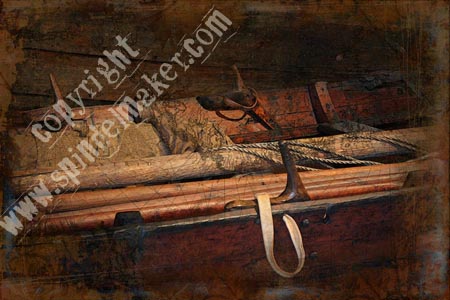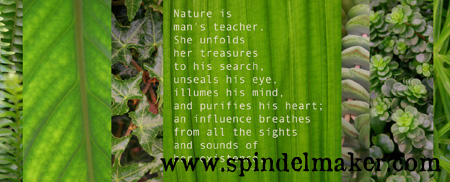 Nature is man's teacher.  She unfolds her treasures to his search, unseals his eye, illumes his mind, and purifies his heart; an influence breathes from all the sights and sounds of her existence. 
~Alfred Billings Street 
Her er bilete frå nokre av kugarane: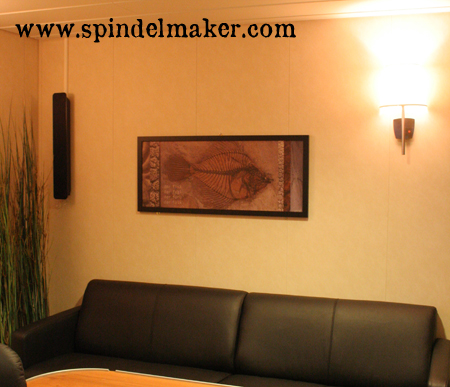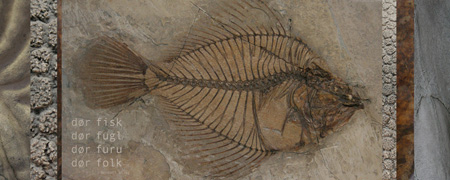 Dør fisk – dør fugl – dør furu – dør folk   Nordahl Grieg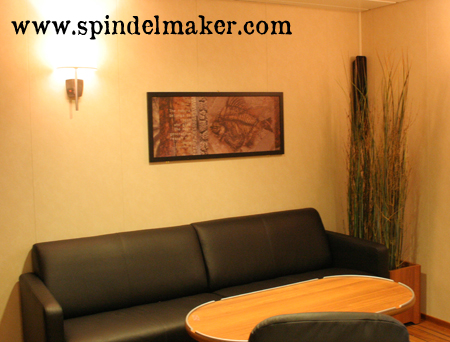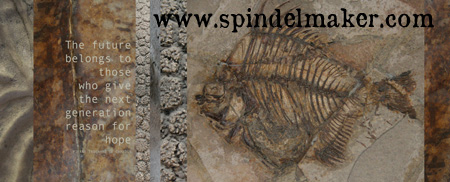 The future belongs to those who give the next generation hope.
PIERRE TEILHARD DE CHARDIN
Her er bilete frå lugaren til Kapteinen. Han er frå Bømlo, som meg, og eg tenkte det kunne passe med nokre "heimslege" bilete til han. Motiva er frå vest i øyane utanfor Goddo og Brandasund.
CLEAR VISION
A prisoner of your own sorrow, 
captivated by fear, 
your soul is beautiful,
don´t pollute it with fear.
trust me, you deserve love. 
Break the compromising pact
your soul swore the day your heart was betrayed.
Accept forgiveness,
it was meant for you,
and free your heart of hearts.
Let go of anger
sweep sorrow out the door,
breathe freely
and be strenghtened
by the salty sea-air.
The wisdom lies in your heart, just remember it.
True appiness will come your way,
pure love will spring to life,
all the gifts of life will trifold..
And you shall once again 
be all that you were meant to be.
                               Janne Robberstad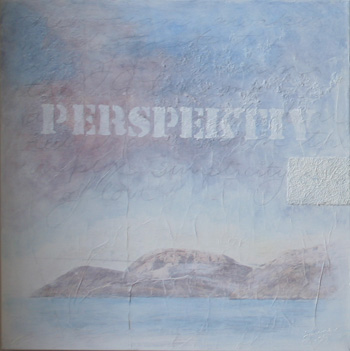 PERSPECTIVE
The ocean awakes me
listen to the color of your dream
the sea takes me
to an unexpected clearview
I am shown
the complex simplicity of love
                            Janne Robberstad
____________________________________________________
Ein av dei tinga som gjer denne båten ekstra spesiell, er at det er ein sky-lounge øverst, over styrhusset. For ein utsikt! 
Eg hadde lyst å prøva noko litt annleis til dette rommet, og laga eit stort relieff på 200x 235 cm. Overflata er eit bearbeidd foto av regnskogen i Guatemala (der eg var for nokre år sidan), som er trykt på ei 1 cm tjukk plast-plate, som så er skoren ut i eit "jungel-mønster" eg hadde laga til. 
Desverre er ikkje bileta her så fine, så det kjem eigentleg ikkje fram kor bra det faktisk såg ut i røynda. Det var rett og slett kult!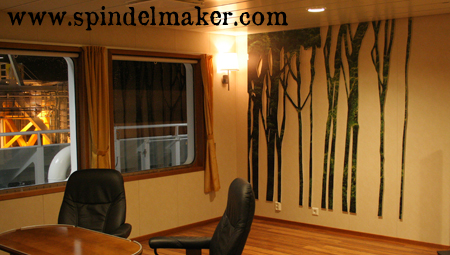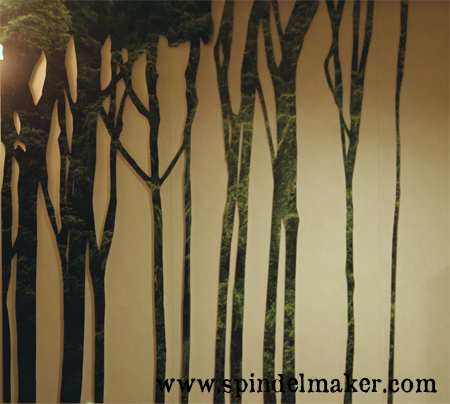 Topics: Diverse | 1 Comment »
One Response to "Skandi Santos"
Loffen Says:
December 4th, 2009 at 01:32

Var flotte bilder ombord på Skandi Santos!! Jeg har vært ombord i over en mnd og fant megselv studere enkelte av bildene i lang tid, merket stor forskjell fra før og etter de kom opp. Spesiellt fascinert var jeg av det i trappeoppgangen ned fra A-dekket(eddik-dråpe-bildet). Bildene i messen synes jeg var fine, men de ble litt små i forhold til rommet og de store vindusflatene på motsatt vegg inn mot dagligrommet.

Men det var virkelig bilder som sto i stil til båtens "tema" og hvor den skal være! Flott og vakkert arbeid =)
Comments